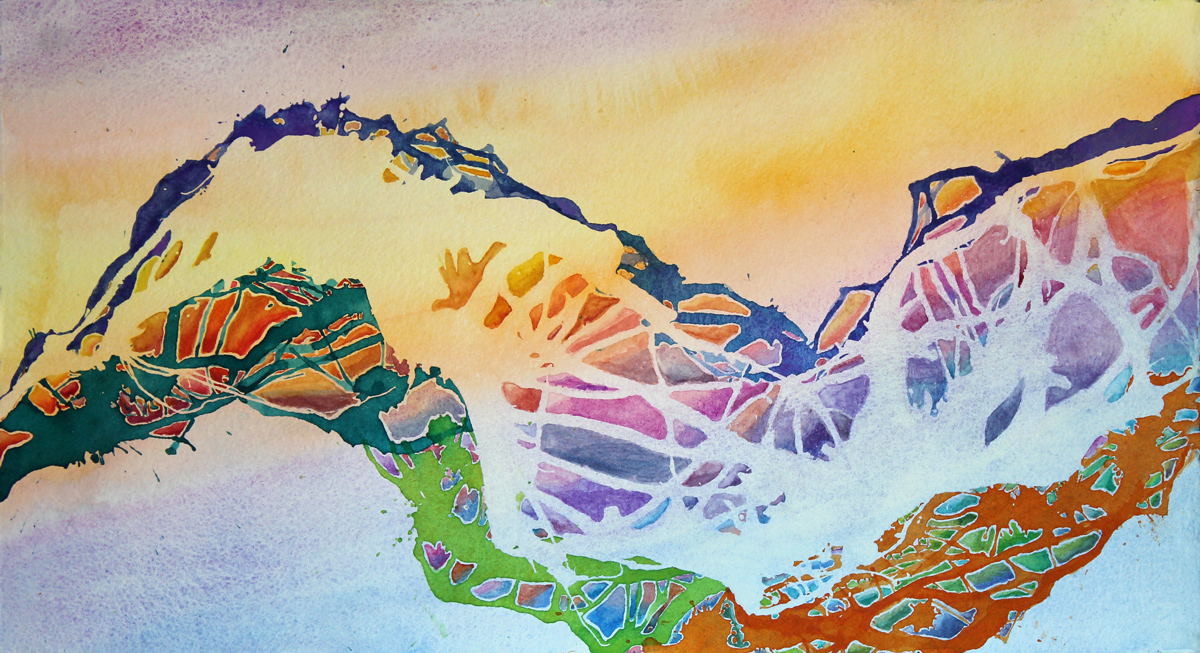 Over and Under
This is one of my two paintings juried into the NMWS Spring Exhibition by juror Thomas Shaller.  The show is from May 7 – 28, Thursdays through Sundays, from 10 to 4, at the Fine Arts Gallery at Expo New Mexico (Fairgrounds).  The opening reception will be from 1 to 4 on May 6th.
In the past few years, I have become more experimental with my paintings, using spatter, dropped and blown liquid masking fluid and paint, departing from photorealism and embracing my intuition and playing with seeming randomness.  My colors are brighter and my subjects more whimsical. I want the viewer to see whatever she imagines this to be and not something specific.  Painting watercolor postcards with my mother the last few months of her life gave me a more spiritual and therapeutic expression in my work.  My mother's painting mantra was, "Less is more." Image size:  10″ x 18."  Framed size:  19″ x 28." $675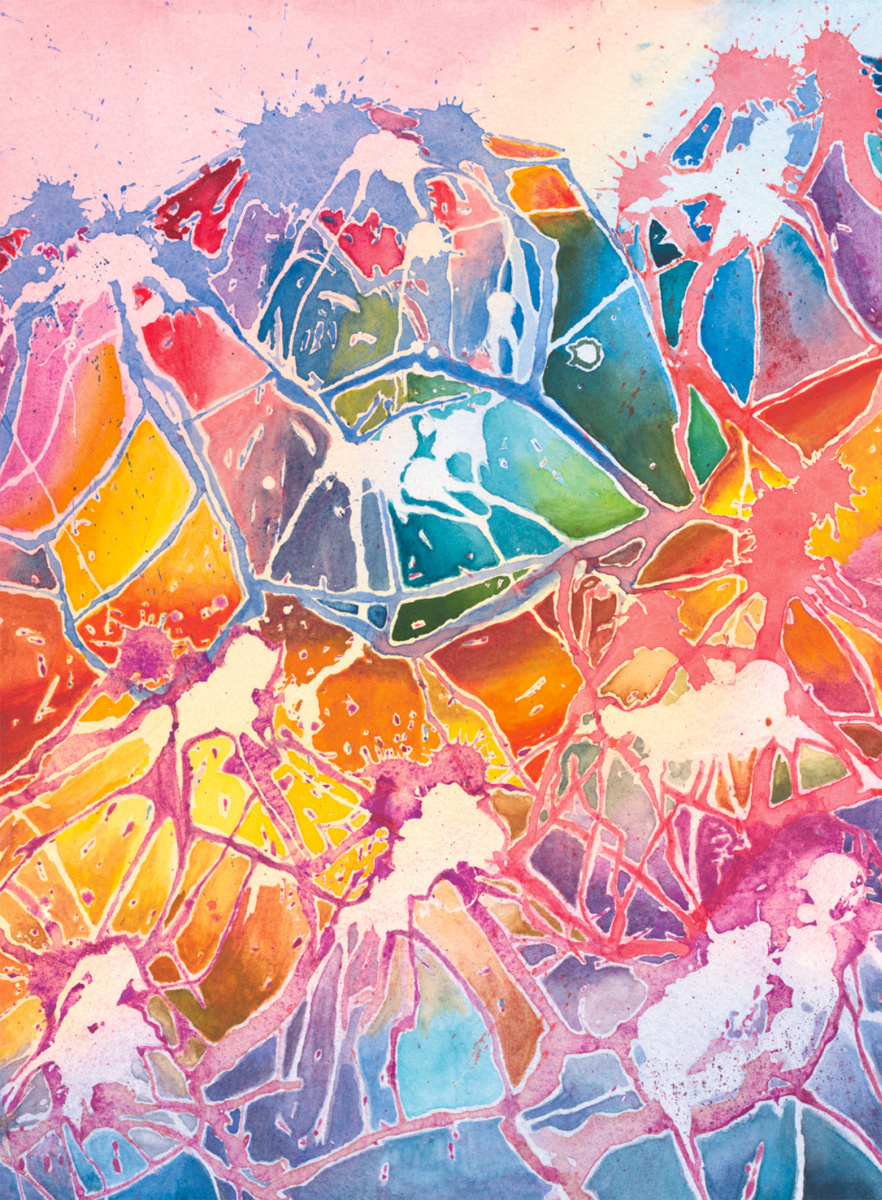 Wave Theory
This painting is the sister painting to Mountain Splatter, which is in the MasterWorks New Mexico current exhibition until Saturday, April 22nd. I painted both of these after a two day winter road trip from New Mexico to the Cascade Mountains in Washington. I looked at the snowy mountain ranges we passed and noticed the abstract patterns. When I got to the cabin and enjoyed being sheltered during the snowstorm, I looked at a color wheel and used complementary and analagous colors as I painted. This painting will also be in the New Mexico Watercolor Society's Spring Exhibition 2017. Image size: 14″ x 11." Framed size: 22″ x 19." $675.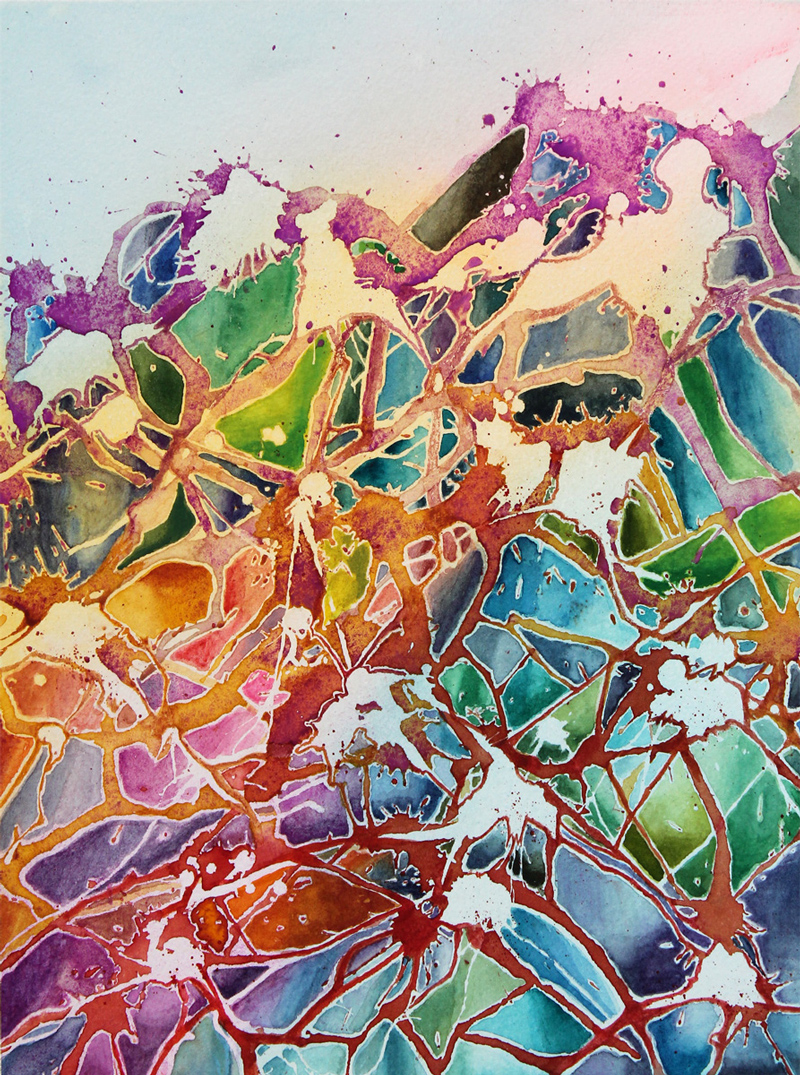 Mountain Splatter
Image size:  Image size: 14″ x 11." Framed size: 22″ x 19." $675.
Cactus on My Mind
Whenever I feel the need to jump-start my painting, I return to cactus.  In the past, I have used photo references, but for this painting, I looked to spattered and blown liquid mask to find cactus imagery.  You can find this painting at Patrician Design's original art gallery, at 216 Gold Ave. SW, in downtown Albuquerque.  Image size:  14″ x 11."  Framed size: 22″ x 19." $675